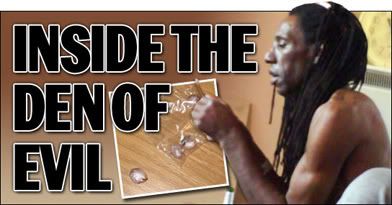 Man, isn't it horrible when you get shamed up by your Dad? Like when he insists on wearing that manky jumper he got at Christmas 1997 and those trackie bottoms whenever you bring your girlfriend over. Or when you see him Elvis-dancing to Abba Gold at a cousin's wedding. Or when he's on the front of the News Of The World selling crack and heroin to prostitutes in 'No-Go Nottingham crime zone' (fucking hell, is there

anywhere

in Nottingham that's actually 'Go' anymore?) Radford, after being stung by the Fake Sheik himself (who presumably

wasn't

posing as a petrodollar millionaire for this particular job).

That, my friends, is the quandary being forced upon 'Millionaire soccer ace' Jermaine Pennant this morning, as he riffles through the country's leading Sunday shit-rag and reads about his old man being an EVIL MUSCLE-BOUND BOSS OF A SEEDY CRACK DEN (as opposed to a nice, well-kept crack den, presumably), as well as getting information on what prostitutes in Radford are charging at the moment. And I bet his first reaction, like all of us, would be to scream; "Ah DAAAAAAAAAAAAAD! PUT SOME FUCKING TROUSERS ON, FOR FUCK'S SAKE! YER

ALLUS

SHOWING US UP!" before stomping back to the bedroom to listen to Bullet For My Valentine at top volume.